We wanted to write a post highlighting some books by Black authors that both/one of us have read, ones that we own and want to read, and ones we are currently reading. It's so important to support Black creators not just now but always. Both Sarah and I want to do better and are taking meaningful action to do so. At the start of this list we have linked some articles and blog posts by Black people recommending books by Black authors as well as some lists of films to watch to educate yourself. We will also share in this list some resources for the Black Lives Matter movement, including links to donations and petitions, educational resources and info for protestors. We stand in complete solidarity with the Black Lives Matter movement and we vow to do better to help the Black community in any way we can.
Films
10 Documentaries to Watch About Race Instead of Asking a Person of Colour to Explain Things for You
The Black Film Canon: The 50 greatest movies by black directors – Aisha Harris and Dan Kois
Books
Do the work: an anti-racist reading list – Layla F Saad
45 Black Young Adult Novels to Add to Your TBR – Afoma Umesi
16 YA Books by Black Authors That You Can Preorder Right Now
Akwaeke Emezi – Pet

Pet is here to hunt a monster. Are you brave enough to look?
There are no more monsters anymore, or so the children in the city of Lucille are taught. With doting parents and a best friend named Redemption, Jam has grown up with this lesson all her life. But when she meets Pet, a creature made of horns and colours and claws, who emerges from one of her mother's paintings and a drop of Jam's blood, she must reconsider what she's been told. Pet has come to hunt a monster, and the shadow of something grim lurks in Redemption's house. Jam must fight not only to protect her best friend, but also to uncover the truth, and the answer to the question-How do you save the world from monsters if no one will admit they exist?
In their riveting and timely young adult debut, acclaimed novelist Akwaeke Emezi asks difficult questions about what choices a young person can make when the adults around them are in denial
Alexandra Sheppard – Oh My Gods

Life as a half-mortal teenager should be epic. But, for Helen Thomas, it's tragic.
She's just moved in with her dorky dad and self-absorbed older siblings – who happen to be the ancient Greek gods, living incognito in London! Between keeping her family's true identities secret, trying to impress her new friends, and meeting an actually cute boy, Helen's stress levels are higher than Mount Olympus. She needs to rein in her chaotic family before they blow their cover AND her chances at a half-normal social life.
Or is Helen fated for an embarrassment of mythical proportions?
Alice Walker – The Color Purple

The Color Purple is a classic. With over a million copies sold in the UK alone, it is hailed as one of the all-time 'greats' of literature, inspiring generations of readers. Set in the deep American South between the wars, it is the tale of Celie, a young black girl born into poverty and segregation. Raped repeatedly by the man she calls 'father', she has two children taken away from her, is separated from her beloved sister Nettie and is trapped into an ugly marriage. But then she meets the glamorous Shug Avery, singer and magic-maker – a woman who has taken charge of her own destiny. Gradually, Celie discovers the power and joy of her own spirit, freeing her from her past and reuniting her with those she loves.
Angie Thomas – The Hate U Give

Sixteen-year-old Starr Carter moves between two worlds: the poor neighborhood where she lives and the fancy suburban prep school she attends. The uneasy balance between these worlds is shattered when Starr witnesses the fatal shooting of her childhood best friend Khalil at the hands of a police officer. Khalil was unarmed. Soon afterward, his death is a national headline. Some are calling him a thug, maybe even a drug dealer and a gangbanger. Protesters are taking to the streets in Khalil's name. Some cops and the local drug lord try to intimidate Starr and her family. What everyone wants to know is: what really went down that night? And the only person alive who can answer that is Starr. But what Starr does—or does not—say could upend her community. It could also endanger her life.
Inspired by the Black Lives Matter movement, this is a powerful and gripping YA novel about one girl's struggle for justice.
Angie Thomas – On the Come Up

Sixteen-year-old Bri wants to be one of the greatest rappers of all time. Or at least win her first battle. As the daughter of an underground hip hop legend who died right before he hit big, Bri's got massive shoes to fill. But it's hard to get your come up when you're labeled a hoodlum at school, and your fridge at home is empty after your mom loses her job. So Bri pours her anger and frustration into her first song, which goes viral . . . for all the wrong reasons. Bri soon finds herself at the center of a controversy, portrayed by the media as more menace than MC. But with an eviction notice staring her family down, Bri doesn't just want to make it—she has to. Even if it means becoming the very thing the public has made her out to be.
Insightful, unflinching, and full of heart, On the Come Up is an ode to hip hop from one of the most influential literary voices of a generation. It is the story of fighting for your dreams, even as the odds are stacked against you; and about how, especially for young black people, freedom of speech isn't always free.
Audre Lorde – Sister Outsider

A collection of fifteen essays written between 1976 and 1984 gives clear voice to Audre Lorde's literary and philosophical personae. These essays explore and illuminate the roots of Lorde's intellectual development and her deep-seated and longstanding concerns about ways of increasing empowerment among minority women writers and the absolute necessity to explicate the concept of difference—difference according to sex, race, and economic status. The title Sister Outsider finds its source in her poetry collection The Black Unicorn (1978). These poems and the essays in Sister Outsider stress Lorde's oft-stated theme of continuity, particularly of the geographical and intellectual link between Dahomey, Africa, and her emerging self.
Bernardine Evaristo – Girl, Woman, Other

Teeming with life and crackling with energy — a love song to modern Britain and black womanhood.
Girl, Woman, Other follows the lives and struggles of twelve very different characters. Mostly women, black and British, they tell the stories of their families, friends and lovers, across the country and through the years.
Joyfully polyphonic and vibrantly contemporary, this is a gloriously new kind of history, a novel of our times: celebratory, ever-dynamic and utterly irresistible.
Brandy Colbert – Finding Yvonne

Since she was seven years old, Yvonne has had her trusted violin to keep her company, especially in those lonely days after her mother walked out on their family. But with graduation just around the corner, she is forced to face the hard truth that she just might not be good enough to attend a conservatory after high school. Full of doubt about her future, and increasingly frustrated by her strained relationship with her successful but emotionally closed-off father, Yvonne meets a street musician and fellow violinist who understands her struggle. He's mysterious, charming, and different from Warren, the familiar and reliable boy who has her heart. But when Yvonne becomes unexpectedly pregnant, she has to make the most difficult decision yet about her future.
Brandy Colbert – Little & Lion

When Suzette comes home to Los Angeles from her boarding school in New England, she isn't sure if she'll ever want to go back. L.A. is where her friends and family are (along with her crush, Emil). And her stepbrother, Lionel, who has been diagnosed with bipolar disorder, needs her emotional support. But as she settles into her old life, Suzette finds herself falling for someone new…the same girl her brother is in love with. When Lionel's disorder spirals out of control, Suzette is forced to confront her past mistakes and find a way to help her brother before he hurts himself–or worse.
Camryn Garrett – Full Disclosure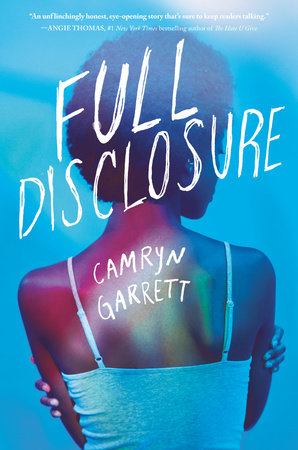 In a community that isn't always understanding, an HIV-positive teen must navigate fear, disclosure, and radical self-acceptance when she falls in love–and lust–for the first time. Powerful and uplifting, Full Disclosure will speak to fans of Angie Thomas and Nicola Yoon.
Simone Garcia-Hampton is starting over at a new school, and this time things will be different. She's making real friends, making a name for herself as student director of Rent, and making a play for Miles, the guy who makes her melt every time he walks into a room. The last thing she wants is for word to get out that she's HIV-positive, because last time . . . well, last time things got ugly. Keeping her viral load under control is easy, but keeping her diagnosis under wraps is not so simple. As Simone and Miles start going out for real–shy kisses escalating into much more–she feels an uneasiness that goes beyond butterflies. She knows she has to tell him that she's positive, especially if sex is a possibility, but she's terrified of how he'll react! And then she finds an anonymous note in her locker: I know you have HIV. You have until Thanksgiving to stop hanging out with Miles. Or everyone else will know too.
Simone's first instinct is to protect her secret at all costs, but as she gains a deeper understanding of the prejudice and fear in her community, she begins to wonder if the only way to rise above is to face the haters head-on…

Candice Carty-Williams – Queenie

Bridget Jones's Diary meets Americanah in this disarmingly honest, boldly political, and truly inclusive novel that will speak to anyone who has gone looking for love and found something very different in its place.
Queenie Jenkins is a 25-year-old Jamaican British woman living in London, straddling two cultures and slotting neatly into neither. She works at a national newspaper, where she's constantly forced to compare herself to her white middle class peers. After a messy break up from her long-term white boyfriend, Queenie seeks comfort in all the wrong places…including several hazardous men who do a good job of occupying brain space and a bad job of affirming self-worth. As Queenie careens from one questionable decision to another, she finds herself wondering, "What are you doing? Why are you doing it? Who do you want to be?"—all of the questions today's woman must face in a world trying to answer them for her.
Queenie is a remarkably relatable exploration of what it means to be a modern woman searching for meaning in today's world.
Chimamanda Ngozi Adichie – Americanah

Ifemelu and Obinze are young and in love when they depart military-ruled Nigeria for the West. Beautiful, self-assured Ifemelu heads for America, where despite her academic success, she is forced to grapple with what it means to be black for the first time. Quiet, thoughtful Obinze had hoped to join her, but with post-9/11 America closed to him, he instead plunges into a dangerous, undocumented life in London. Fifteen years later, they reunite in a newly democratic Nigeria, and reignite their passion—for each other and for their homeland.

Chimamanda Ngozi Adichie – Half of a Yellow Sun

A masterly, haunting new novel from a writer heralded by The Washington Post Book World as "the 21st-century daughter of Chinua Achebe," Half of a Yellow Sun re-creates a seminal moment in modern African history: Biafra's impassioned struggle to establish an independent republic in Nigeria in the 1960s, and the chilling violence that followed. With astonishing empathy and the effortless grace of a natural storyteller, Chimamanda Ngozi Adichie weaves together the lives of three characters swept up in the turbulence of the decade. Thirteen-year-old Ugwu is employed as a houseboy for a university professor full of revolutionary zeal. Olanna is the professor's beautiful mistress, who has abandoned her life of privilege in Lagos for a dusty university town and the charisma of her new lover. And Richard is a shy young Englishman in thrall to Olanna's twin sister, an enigmatic figure who refuses to belong to anyone. As Nigerian troops advance and the three must run for their lives, their ideals are severely tested, as are their loyalties to one another.
Epic, ambitious, and triumphantly realized, Half of a Yellow Sun is a remarkable novel about moral responsibility, about the end of colonialism, about ethnic allegiances, about class and race—and the ways in which love can complicate them all. Adichie brilliantly evokes the promise and the devastating disappointments that marked this time and place, bringing us one of the most powerful, dramatic, and intensely emotional pictures of modern Africa that we have ever had.
Claire Kann – Let's Talk About Love
Alice had her whole summer planned. Non-stop all-you-can-eat buffets while marathoning her favorite TV shows (best friends totally included) with the smallest dash of adulting–working at the library to pay her share of the rent. The only thing missing from her perfect plan? Her girlfriend (who ended things when Alice confessed she's asexual). Alice is done with dating–no thank you, do not pass go, stick a fork in her, done.
But then Alice meets Takumi and she can't stop thinking about him or the rom com-grade romance feels she did not ask for (uncertainty, butterflies, and swoons, oh my!). When her blissful summer takes an unexpected turn, and Takumi becomes her knight with a shiny library employee badge (close enough), Alice has to decide if she's willing to risk their friendship for a love that might not be reciprocated—or understood. 

Claire Kann – If It Makes You Happy

High school finally behind her, Winnie is all set to attend college in the fall. But first she's spending her summer days working at her granny's diner and begins spending her midnights with Dallas—the boy she loves to hate and hates that she likes. Winnie lives in Misty Haven, a small town where secrets are impossible to keep—like when Winnie allegedly snaps on Dr. Skinner, which results in everyone feeling compelled to give her weight loss advice for her own good. Because they care that's she's "too fat." Winnie dreams of someday inheriting the diner—but it'll go away if they can't make money, and fast. Winnie has a solution—win a televised cooking competition and make bank. But Granny doesn't want her to enter—so Winnie has to find a way around her formidable grandmother. Can she come out on top?

Dean Atta – The Black Flamingo

I masquerade in makeup and feathers and I am applauded.
A boy comes to terms with his identity as a mixed-race gay teen – then at university he finds his wings as a drag artist, The Black Flamingo. A bold story about the power of embracing your uniqueness. Sometimes, we need to take charge, to stand up wearing pink feathers – to show ourselves to the world in bold colour.
Dhonielle Clayton – The Belles

Camellia Beauregard is a Belle. In the opulent world of Orléans, Belles are revered, for they control Beauty, and Beauty is a commodity coveted above all else. In Orléans, the people are born gray, they are born damned, and only with the help of a Belle and her talents can they transform and be made beautiful. But it's not enough for Camellia to be just a Belle. She wants to be the favorite—the Belle chosen by the Queen of Orléans to live in the royal palace, to tend to the royal family and their court, to be recognized as the most talented Belle in the land. But once Camellia and her Belle sisters arrive at court, it becomes clear that being the favorite is not everything she always dreamed it would be. Behind the gilded palace walls live dark secrets, and Camellia soon learns that the very essence of her existence is a lie—that her powers are far greater, and could be more dangerous, than she ever imagined. And when the queen asks Camellia to risk her own life and help the ailing princess by using Belle powers in unintended ways, Camellia now faces an impossible decision. With the future of Orléans and its people at stake, Camellia must decide—save herself and her sisters and the way of the Belles—or resuscitate the princess, risk her own life, and change the ways of her world forever.
Elizabeth Acevedo – Clap When You Land

Camino Rios lives for the summers when her father visits her in the Dominican Republic. But this time, on the day when his plane is supposed to land, Camino arrives at the airport to see crowds of crying people… In New York City, Yahaira Rios is called to the principal's office, where her mother is waiting to tell her that her father, her hero, has died in a plane crash. Separated by distance – and Papi's secrets – the two girls are forced to face a new reality in which their father is dead and their lives are forever altered. And then, when it seems like they've lost everything of their father, they learn of each other. Papi's death uncovers all the painful truths he kept hidden, and the love he divided across an ocean. And now, Camino and Yahaira are both left to grapple with what this new sister means to them, and what it will now take to keep their dreams alive.
In a dual narrative novel in verse that brims with both grief and love, award-winning and bestselling author Elizabeth Acevedo writes about the devastation of loss, the difficulty of forgiveness, and the bittersweet bonds that shape our lives.
Elizabeth Acevedo – The Poet X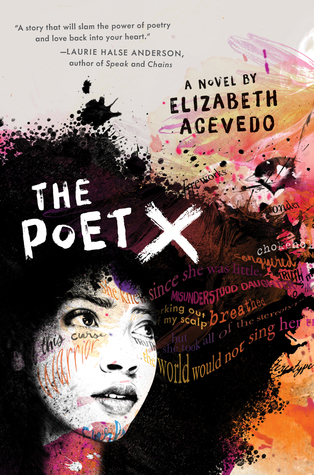 A young girl in Harlem discovers slam poetry as a way to understand her mother's religion and her own relationship to the world. Debut novel of renowned slam poet Elizabeth Acevedo.
Xiomara Batista feels unheard and unable to hide in her Harlem neighborhood. Ever since her body grew into curves, she has learned to let her fists and her fierceness do the talking. But Xiomara has plenty she wants to say, and she pours all her frustration and passion onto the pages of a leather notebook, reciting the words to herself like prayers—especially after she catches feelings for a boy in her bio class named Aman, who her family can never know about. With Mami's determination to force her daughter to obey the laws of the church, Xiomara understands that her thoughts are best kept to herself.
So when she is invited to join her school's slam poetry club, she doesn't know how she could ever attend without her mami finding out, much less speak her words out loud. But still, she can't stop thinking about performing her poems. Because in the face of a world that may not want to hear her, Xiomara refuses to be silent.
Elizabeth Acevedo – With the Fire on High

With her daughter to care for and her abuela to help support, high school senior Emoni Santiago has to make the tough decisions, and do what must be done. The one place she can let her responsibilities go is in the kitchen, where she adds a little something magical to everything she cooks, turning her food into straight-up goodness. Still, she knows she doesn't have enough time for her school's new culinary arts class, doesn't have the money for the class's trip to Spain — and shouldn't still be dreaming of someday working in a real kitchen. But even with all the rules she has for her life — and all the rules everyone expects her to play by — once Emoni starts cooking, her only real choice is to let her talent break free. 

Gemma Cairney – Open Your Heart

Full of honest and practical advice from Gemma Cairney and a whole host of trained professionals and real people, Open Your Heart is a best friend in a book. From heartbreak and heartache to body image and everything in between, this book will help you learn to love your body, your friends and your family, and tell you what to do if things go wrong. Includes chapters on: Family, Friendship, Bullying, Love, Heartbreak, Death, grief and loss, Periods, Body image, Exercise, Food, Sex, Gender and sexuality, Sexual health, and more!
Jason Reynolds – For Everyone

Originally performed at the Kennedy Center for the unveiling of the Martin Luther King Jr. Memorial, and later as a tribute to Walter Dean Myers, this stirring and inspirational poem is New York Times bestselling author and National Book Award finalist Jason Reynolds's rallying cry to the dreamers of the world.
For Every One is just that: for every one. For every one person. For every one dream. But especially for every one kid. The kids who dream of being better than they are. Kids who dream of doing more than they almost dare to dream. Kids who are like Jason Reynolds, a self-professed dreamer. Jason does not claim to know how to make dreams come true; he has, in fact, been fighting on the front line of his own battle to make his own dreams a reality. He expected to make it when he was sixteen. Then eighteen. Then twenty-five. Now, some of those expectations have been realized. But others, the most important ones, lay ahead, and a lot of them involve kids, how to inspire them. All the kids who are scared to dream, or don't know how to dream, or don't dare to dream because they've NEVER seen a dream come true. Jason wants kids to know that dreams take time. They involve countless struggles. But no matter how many times a dreamer gets beat down, the drive and the passion and the hope never fully extinguish—because just having the dream is the start you need, or you won't get anywhere anyway, and that is when you have to take a leap of faith.
A pitch perfect graduation, baby, or love my kid gift.
Jason Reynolds – Long Way Down

An ode to Put the Damn Guns Down, this is New York Times bestseller Jason Reynolds's fiercely stunning novel that takes place in sixty potent seconds—the time it takes a kid to decide whether or not he's going to murder the guy who killed his brother.
A cannon. A strap.
A piece. A biscuit.
A burner. A heater.
A chopper. A gat.
A hammer
A tool
for RULE
Or, you can call it a gun. That's what fifteen-year-old Will has shoved in the back waistband of his jeans. See, his brother Shawn was just murdered. And Will knows the rules. No crying. No snitching. Revenge. That's where Will's now heading, with that gun shoved in the back waistband of his jeans, the gun that was his brother's gun. He gets on the elevator, seventh floor, stoked. He knows who he's after. Or does he? As the elevator stops on the sixth floor, on comes Buck. Buck, Will finds out, is who gave Shawn the gun before Will took the gun. Buck tells Will to check that the gun is even loaded. And that's when Will sees that one bullet is missing. And the only one who could have fired Shawn's gun was Shawn. Huh. Will didn't know that Shawn had ever actually USED his gun. Bigger huh. BUCK IS DEAD. But Buck's in the elevator? Just as Will's trying to think this through, the door to the next floor opens. A teenage girl gets on, waves away the smoke from Dead Buck's cigarette. Will doesn't know her, but she knew him. Knew. When they were eight. And stray bullets had cut through the playground, and Will had tried to cover her, but she was hit anyway, and so what she wants to know, on that fifth floor elevator stop, is, what if Will, Will with the gun shoved in the back waistband of his jeans, MISSES. And so it goes, the whole long way down, as the elevator stops on each floor, and at each stop someone connected to his brother gets on to give Will a piece to a bigger story than the one he thinks he knows. A story that might never know an END…if WILL gets off that elevator.
Told in short, fierce staccato narrative verse, Long Way Down is a fast and furious, dazzlingly brilliant look at teenage gun violence, as could only be told by Jason Reynolds.
Julian Winters – How to be Remy Cameron

Everyone on campus knows Remy Cameron. He's the out-and-gay, super-likable guy that people admire for his confidence. The only person who may not know Remy that well is Remy himself.
So when he is assigned to write an essay describing himself, he goes on a journey to reconcile the labels that people have attached to him, and get to know the real Remy Cameron.
Julian Winters – Running with Lions

Bloomington High School Lions' star goalie, Sebastian Hughes, should be excited about his senior year: His teammates are amazing and he's got a coach who doesn't ask anyone to hide their sexuality. But when his estranged childhood best friend Emir Shah shows up to summer training camp, Sebastian realizes the team's success may end up in the hands of the one guy who hates him. Determined to reconnect with Emir for the sake of the Lions, he sets out to regain Emir's trust. But to Sebastian's surprise, sweaty days on the pitch, wandering the town's streets, and bonding on the weekends sparks more than just friendship between them.
Justina Ireland – Dread Nation

Jane McKeene was born two days before the dead began to walk the battlefields of Gettysburg and Chancellorsville—derailing the War Between the States and changing America forever. In this new nation, safety for all depends on the work of a few, and laws like the Native and Negro Reeducation Act require certain children attend combat schools to learn to put down the dead. But there are also opportunities—and Jane is studying to become an Attendant, trained in both weaponry and etiquette to protect the well-to-do. It's a chance for a better life for Negro girls like Jane. After all, not even being the daughter of a wealthy white Southern woman could save her from society's expectations. But that's not a life Jane wants. Almost finished with her education at Miss Preston's School of Combat in Baltimore, Jane is set on returning to her Kentucky home and doesn't pay much mind to the politics of the eastern cities, with their talk of returning America to the glory of its days before the dead rose. But when families around Baltimore County begin to go missing, Jane is caught in the middle of a conspiracy, one that finds her in a desperate fight for her life against some powerful enemies. And the restless dead, it would seem, are the least of her problems.
Malorie Blackman – Boy's Don't Cry

This is the explosively page-turning new novel for teenagers from the author of the award-winning "Noughts and Crosses" sequence. You're about to receive your A-level results and then a future of university and journalism awaits.
But the day they're due to arrive your old girlfriend Melanie turns up unexpectedly …with a baby …You assume Melanie's helping a friend, until she nips out to buy some essentials, leaving you literally holding the baby … Malorie's dramatic novel will keep you on the edge of your seat right to the final page.
Malorie Blackman – Chasing the Stars

Olivia and her twin brother Aidan are heading alone back to Earth following the virus that wiped out the rest of their crew, and their family, in its entirety. Nathan is part of a community heading in the opposite direction. But on their journey, Nathan's ship is attacked and most of the community killed. Only a few survive. Their lives unexpectedly collided, Nathan and Olivia are instantly attracted to each other, deeply, head-over-heels – like nothing they have ever experienced. But not everyone is pleased. Surrounded by rumours, deception, even murder, is it possible to live out a happy ever after . . . ?
Malorie Blackman – Noughts & Crosses series

Noughts & Crosses: Sephy is a Cross: dark-skinned and beautiful, she lives a life of privilege and power. But she's lonely, and burns with injustice at the world she sees around her. Callum is a nought: pale-skinned and poor, he's considered to be less than nothing – a blanker, there to serve Crosses – but he dreams of a better life.
Knife Edge: Two families have been shattered by the divided and violent society they live in. Sephy Hadley – a Cross, supposedly powerful and privileged – has bound herself forever to her nought lover Callum McGregor's family.
Checkmate: Sixteen years have passed since Sephy Hadley first met Callum McGregor – and the hate that divided them turned to hope. But the world hasn't changed quickly enough for their daughter, Callie Rose.
Double Cross: Tobey wants a better life – for him and for Callie Rose. He wants nothing to do with the violent gangs that rule the world he lives in. But when he's offered the chance to earn some extra money, how much could it hurt to just this once say 'yes'?
Crossfire: Years have passed since the love between Sephy – a Cross – and Callum – a Nought – destroyed their world and changed their families and society forever.Society appears to be very different now. For the first time ever, a Nought Prime Minister – Tobey Durbridge – is in power.
Nought Forever World Book Day: Eva just wants to be left alone to mourn her daughter. But when a badly wounded Dan crosses her path, she's compelled to help.Both are hiding dark secrets from their past. Both have reasons to fear the other.
Malorie Blackman – Noble Conflict

Years after a violent war destroyed much of the world, Kaspar has grown up in a society based on peace and harmony. But beyond the city walls, a vicious band of rebels are plotting to tear this peace apart. It is up to the Guardians – an elite peacekeeping force – to protect the city, without ever resorting to the brutal methods of their enemy. When Kaspar joins the Guardians, he has a chance encounter with a rebel – a beautiful girl named Rhea. Haunted from that moment on by strange visions and memories – memories that could only belong to Rhea – he realises he hasn't been told the truth about what the rebels really want, and what he's really fighting for.
Malorie Blackman – Pig-Heart Boy

You're thirteen. All you want is a normal life. But most normal kids don't need heart transplants. So there's this doctor. He says there's a chance for you.
But he also says it's experimental, controversial and risky. And it's never been done before. Shortlisted for the Carnegie Medal, this is a powerful, thought-provoking story from the award-winning Malorie Blackman.
Maya Angelou – I Know Why the Caged Bird Sings

Sent by their mother to live with their devout, self-sufficient grandmother in a small Southern town, Maya and her brother, Bailey, endure the ache of abandonment and the prejudice of the local "powhitetrash." At eight years old and back at her mother's side in St. Louis, Maya is attacked by a man many times her age—and has to live with the consequences for a lifetime. Years later, in San Francisco, Maya learns that love for herself, the kindness of others, her own strong spirit, and the ideas of great authors ("I met and fell in love with William Shakespeare") will allow her to be free instead of imprisoned. Poetic and powerful, I Know Why the Caged Bird Sings will touch hearts and change minds for as long as people read.

Michael Donkor – Hold

Moving between Ghana and London, Hold is an intimate, powerful coming-of-age novel. It's a story of friendship and family, shame and forgiveness; of learning what we should cling to, and when we need to let go.
'You have to imagine. That's how I told myself.' 'Imagine what?' 'Imagine that you are the kind of girl that can cope with it, even if you are not.'
Belinda knows how to follow the rules. She has learnt the right way to polish water glasses, to wash and fold a hundred handkerchiefs, and to keep a tight lid on memories of the village she left behind when she came to Kumasi to be a housegirl. Mary is still learning the rules. Eleven years old and irrepressible, the young housegirl-in-training is the little sister Belinda never had. Amma has had enough of the rules. A straight-A pupil at her exclusive South-London school, she has always been the pride of her Ghanaian parents. Until now. Watching their once-confident teenager grow sullen and wayward, they decide that sensible Belinda might be just the shining example Amma needs.
So Belinda is summoned from Ghana to London, to befriend a troubled girl who shows no desire for her friendship. She encounters a city as bewildering as it is exciting, and as she tries to impose order on her unsettling new world, Belinda's phonecalls back home to Mary become a lifeline. As the Brixton summer turns to autumn, Belinda and Amma are surprised to discover the beginnings of an unexpected kinship. But when the cracks in their defences open up, the secrets they have both been holding tight to threaten to seep out…
Nic Stone – Dear Martin

Raw, captivating, and undeniably real, Nic Stone joins industry giants Jason Reynolds and Walter Dean Myers as she boldly tackles American race relations in this stunning debut. Justyce McAllister is top of his class and set for the Ivy League—but none of that matters to the police officer who just put him in handcuffs. And despite leaving his rough neighborhood behind, he can't escape the scorn of his former peers or the ridicule of his new classmates. Justyce looks to the teachings of Dr. Martin Luther King Jr. for answers. But do they hold up anymore? He starts a journal to Dr. King to find out.
Then comes the day Justyce goes driving with his best friend, Manny, windows rolled down, music turned up—way up, sparking the fury of a white off-duty cop beside them. Words fly. Shots are fired. Justyce and Manny are caught in the crosshairs. In the media fallout, it's Justyce who is under attack.
Nic Stone – Jackpot

From the author of the New York Times bestseller Dear Martin–comes a pitch-perfect romance that examines class, privilege, and how a stroke of good luck can change an entire life. Meet Rico: high school senior and afternoon-shift cashier at the Gas 'n' Go, who after school and work races home to take care of her younger brother. Every. Single. Day. When Rico sells a jackpot-winning lotto ticket, she thinks maybe her luck will finally change, but only if she–with some assistance from her popular and wildly rich classmate Zan–can find the ticket holder who hasn't claimed the prize. But what happens when have and have-nots collide? Will this investigative duo unite…or divide?
Nic Stone, the New York Times bestselling author of Dear Martin and Odd One Out, creates two unforgettable characters in one hard-hitting story about class, money–both too little and too much–and how you make your own luck in the world.
Nic Stone – Odd One Out

From the author of Dear Martin comes this exploration of old friendships, new crushes, and the path to self-discovery.
Courtney "Coop" Cooper – Dumped. Again. And normally I wouldn't mind. But right now, my best friend and source of solace, Jupiter Sanchez, is ignoring me to text some girl.
Rae Evelyn Chin – I assumed "new girl" would be synonymous with "pariah," but Jupiter and Courtney make me feel like I'm right where I belong. I also want to kiss him. And her. Which is . . . perplexing.
Jupiter Charity-Sanchez – The only thing worse than losing the girl you love to a boy is losing her to your boy. That means losing him, too. I have to make a move. . . .
One story. Three sides. No easy answers.
Nicola Yoon – Everything Everything

My disease is as rare as it is famous. It's a form of Severe Combined Immunodeficiency, but basically, I'm allergic to the world. I don't leave my house, have not left my house in fifteen years. The only people I ever see are my mom and my nurse, Carla. But then one day, a moving truck arrives. New next door neighbors. I look out the window, and I see him. He's tall, lean and wearing all black—black t-shirt, black jeans, black sneakers and a black knit cap that covers his hair completely. He catches me looking and stares at me. I stare right back. His name is Olly. I want to learn everything about him, and I do. I learn that he is funny and fierce. I learn that his eyes are Atlantic Ocean-blue and that his vice is stealing silverware. I learn that when I talk to him, my whole world opens up, and I feel myself starting to change—starting to want things. To want out of my bubble. To want everything, everything the world has to offer.
Maybe we can't predict the future, but we can predict some things. For example, I am certainly going to fall in love with Olly. It's almost certainly going to be a disaster.
Nicola Yoon – The Sun is Also a Star

Natasha: I'm a girl who believes in science and facts. Not fate. Not destiny. Or dreams that will never come true. I'm definitely not the kind of girl who meets a cute boy on a crowded New York City street and falls in love with him. Not when my family is twelve hours away from being deported to Jamaica. Falling in love with him won't be my story.
Daniel: I've always been the good son, the good student, living up to my parents' high expectations. Never the poet. Or the dreamer. But when I see her, I forget about all that. Something about Natasha makes me think that fate has something much more extraordinary in store—for both of us.
The Universe: Every moment in our lives has brought us to this single moment. A million futures lie before us. Which one will come true?
Oyinkan Braithwaite – My Sister, the Serial Killer

When Korede's dinner is interrupted one night by a distress call from her sister, Ayoola, she knows what's expected of her: bleach, rubber gloves, nerves of steel and a strong stomach. This'll be the third boyfriend Ayoola's dispatched in, quote, self-defence and the third mess that her lethal little sibling has left Korede to clear away. She should probably go to the police for the good of the menfolk of Nigeria, but she loves her sister and, as they say, family always comes first. Until, that is, Ayoola starts dating the doctor where Korede works as a nurse. Korede's long been in love with him, and isn't prepared to see him wind up with a knife in his back: but to save one would mean sacrificing the other…
My Sister, the Serial Killer is a blackly comic novel about how blood is thicker – and more difficult to get out of the carpet – than water…
Patrice Lawrence –  Indigo Donut

A story of longing, belonging and trust. Two very different young people discover who loves them, and who they can love back.
Bailey is 17, mixed race, lives with his mum and dad in Hackney and spends all his time playing guitar or tending to his luscious ginger afro. Indigo is 17 and new to London, having grown up in the care system after being found by her mum's dead body as a toddler. All Indigo wants is to know who she really is. When Bailey and Indigo meet at sixth form, sparks fly. But when Bailey becomes the target of a homeless man who seems to know more about Indigo than is normal, Bailey is forced to make a choice he should never have to make. A story about falling in love and everyone's need to belong.

Patrice Lawrence – Orangeboy

Sixteen-year-old Marlon has promised his widowed mum that he'll be good, and nothing like his gang-leader brother Andre. It's easy when you keep yourself to yourself, listening to your dead dad's Earth, Wind and Fire albums and watching sci-fi. But everything changes when Marlon's first date with the beautiful Sonya ends in tragedy; he becomes a hunted man and he has no idea why. With his dad dead and his brother helpless, Marlon has little choice but to enter Andre's old world of guns, knives and drug runs in order to uncover the truth and protect those close to him. It's time to fight to be the last man standing.
Paul Mendez – Rainbow Milk

Rainbow Milk is an intersectional coming-of-age story, following nineteen-year-old Jesse McCarthy as he grapples with his racial and sexual identities against the backdrop of a Jehovah's Witness upbringing and the legacies of the Windrush generation.
In the Black Country in the 1950s, ex-boxer Norman Alonso is a determined and humble Jamaican who has moved to Britain with his wife to secure a brighter future for themselves and their children. Blighted with unexpected illness and racism, Norman and his family are resilient in the face of such hostilities, but are all too aware that they will need more than just hope to survive. At the turn of the millennium, Jesse seeks a fresh start in London – escaping from a broken immediate family, a repressive religious community and the desolate, disempowered Black Country – but finds himself at a loss for a new centre of gravity, and turns to sex work to create new notions of love, fatherhood and spirituality.
Rainbow Milk is a bold exploration of race, class, sexuality, freedom and religion across generations, time and cultures. Paul Mendez is a fervent new writer with an original and urgent voice.

Reni Eddo-Lodge – Why I'm No Longer Talking to White People About Race

In 2014, award-winning journalist Reni Eddo-Lodge wrote about her frustration with the way that discussions of race and racism in Britain were being led by those who weren't affected by it. She posted a piece on her blog, entitled: 'Why I'm No Longer Talking to White People About Race' that led to this book. Exploring issues from eradicated black history to the political purpose of white dominance, whitewashed feminism to the inextricable link between class and race, Reni Eddo-Lodge offers a timely and essential new framework for how to see, acknowledge and counter racism. It is a searing, illuminating, absolutely necessary exploration of what it is to be a person of colour in Britain today. 

Temi Oh – Do You Dream of Terra-Two?

A century ago, scientists theorised that a habitable planet existed in a nearby solar system. Today, ten astronauts will leave a dying Earth to find it. Four are decorated veterans of the 20th century's space-race. And six are teenagers, graduates of the exclusive Dalton Academy, who've been in training for this mission for most of their lives. It will take the team 23 years to reach Terra-Two. Twenty-three years spent in close quarters. Twenty-three years with no one to rely on but each other. Twenty-three years with no rescue possible, should something go wrong. And something always goes wrong.
Tiffany D Jackson – Monday's Not Coming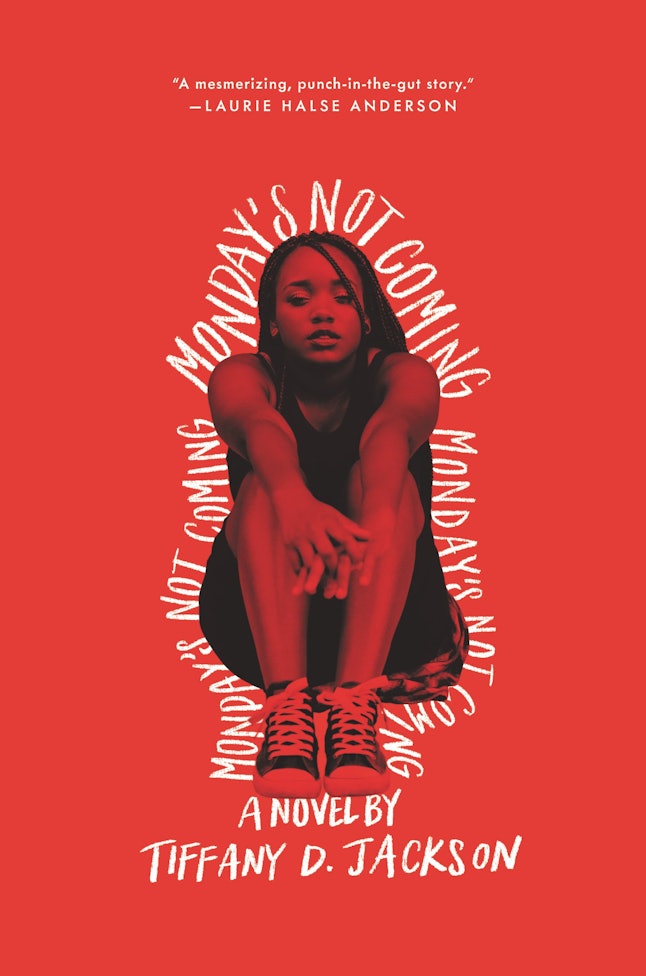 Monday Charles is missing, and only Claudia seems to notice. Claudia and Monday have always been inseparable—more sisters than friends. So when Monday doesn't turn up for the first day of school, Claudia's worried. When she doesn't show for the second day, or second week, Claudia knows that something is wrong. Monday wouldn't just leave her to endure tests and bullies alone. Not after last year's rumors and not with her grades on the line. Now Claudia needs her best—and only—friend more than ever. But Monday's mother refuses to give Claudia a straight answer, and Monday's sister April is even less help. As Claudia digs deeper into her friend's disappearance, she discovers that no one seems to remember the last time they saw Monday. How can a teenage girl just vanish without anyone noticing that she's gone?
Tomi Adeyemi – Children Of Blood and Bone series

They killed my mother. They took our magic. They tried to bury us.
Now we rise.
Zélie Adebola remembers when the soil of Orïsha hummed with magic. Burners ignited flames, Tiders beckoned waves, and Zélie's Reaper mother summoned forth souls.
But everything changed the night magic disappeared. Under the orders of a ruthless king, maji were killed, leaving Zélie without a mother and her people without hope.
Now Zélie has one chance to bring back magic and strike against the monarchy. With the help of a rogue princess, Zélie must outwit and outrun the crown prince, who is hell-bent on eradicating magic for good. Danger lurks in Orïsha, where snow leoponaires prowl and vengeful spirits wait in the waters. Yet the greatest danger may be Zélie herself as she struggles to control her powers and her growing feelings for an enemy.
Zadie Smith – White Teeth, Swing Time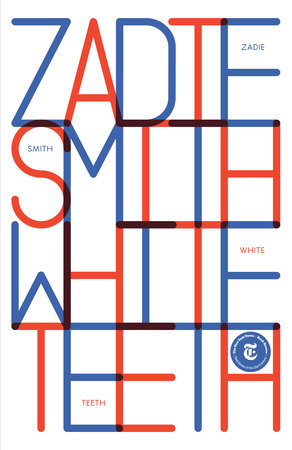 At the center of this invigorating novel are two unlikely friends, Archie Jones and Samad Iqbal. Hapless veterans of World War II, Archie and Samad and their families become agents of England's irrevocable transformation. A second marriage to Clara Bowden, a beautiful, albeit tooth-challenged, Jamaican half his age, quite literally gives Archie a second lease on life, and produces Irie, a knowing child whose personality doesn't quite match her name (Jamaican for "no problem"). Samad's late-in-life arranged marriage (he had to wait for his bride to be born), produces twin sons whose separate paths confound Iqbal's every effort to direct them, and a renewed, if selective, submission to his Islamic faith. Set against London's racial and cultural tapestry, venturing across the former empire and into the past as it barrels toward the future, White Teeth revels in the ecstatic hodgepodge of modern life, flirting with disaster, confounding expectations, and embracing the comedy of daily existence.
As we said at the start, we both want to educate ourselves and be better. Reading is a good way for us to learn, alongside articles, documentaries, petitions and listening to others. There are some books we both have on order to help educate ourselves and continue talking about the Black Lives Matter movement in all aspects of our lives. We will be reading both White Fragility: Why It's So Hard For White People To Talk About Racism by Robin DiAngelo and White Rage: The Unspoken Truth of Our Racial Divide by Carol Anderson for Books With Shae's Blackout Buddy Read as soon as our copies arrive in the post. Another educational book we have both ordered is Me & White Supremacy: How To Recognise Our Privilege, Combat Racism and Change The World by Layla F. Saad – find out more about her book here.
By no means is this list complete, we need to do better, in every aspect of our lives, and we want to support Black authors and Black people in the creative industry at all times.
Black Owned Bookshops – UK
Please think about ordering your books from a Black owned business. Here are some of the Black owned bookshops in the UK (this list again is not complete):
Anti-Racism Resources + Ways You Can Help
The following links are varied – some contain huge master lists of donation links, petitions, educational resources. Others are articles that are important to read and give vital information. You may have seen quite a lot of them shared around already. Please read these and take note – bookmark them, come back to them, don't just skim over them and forget. Share them with people you know.
Stay as safe as you can and we are sending much love to you all