It's the end of December and that also means the end of the year, where has it gone? It honestly doesn't feel that long ago that i was writing up my December wrap-up for least year and collecting together all the books that i read in 2015. Now i'm doing the exact same again. I always have such hope for reading in December, that i'll get a lot done, but sadly it never works out that way. With personal life getting more involved this year, i've read much less than i wanted to. This is particularly sad because i didn't get to read the many festive reads that i had planned. Ah well, there's always next year!
The first book that i finished in December was Dash and Lily's Book Of Dares by David Levithan and Rachel Cohn. I started this in November and was pretty excited to get it finished as it was putting me in a very festive mood indeed. The story is based upon Dash and Lily, a pair that strike an unlikely friendship around a red note book. The two converse through the note book for a short period of time before finally meeting in person. The general consensus for this novel is a general YA story, boy and girl meet, fall in love, live happily ever after. I enjoyed it, but not as much as i would have wanted. I will have a full review of my thoughts up very soon!
The second book that i got around to in December was What Light by Jay Asher. I picked this one up just after the release as i was in the mood for a Christmasy, cheesy YA contemporary read for the holidays. It didn't disappoint. Sienna has two lives, one growing Christmas trees and one selling them. She misses her friends dearly for the month she has to move away in December, but is always excited to get back to California to enjoy her second life. In her final year on the tree lot, she meets a boy, and we can all guess what happens here. As i said, this really hit the spot of what i wanted. If you want more of my thoughts my full review is HERE.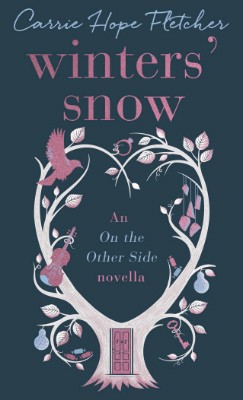 After quite a lot of full length books recently, i felt i needed something small to pick up my pace. This happened to end up being Winters' Snow by Carrie Hope Fletcher. This little novella is a companion to On The Other Side and tells the story of Vincent Snow's life after death. Similarly to her novel, Carrie takes us through the journey you must go through after death to finally be at peace. I adored this very short novella, and really enjoyed reading more about characters that weren't overly discussed in On The Other Side. My review for this is HERE.
Our Christmas Read-Along this year was My True Love Gave To Me, a collection of short stories edited by Stephanie Perkins. We've had this read-along planned for a very long time (since YALC, when i enforced Sophie in to picking up herself a copy) and i was really excited to get stuck in and read one story a day for 12 days. I was expecting a lot of YA contemporary romances based around Christmas time. What i got was a very diverse read, fantasy, contemporary, magical realism and so much more was packed in to this wonderful collection. I cannot explain how much i ended up loving some of these short stories.
I have also started reading The Sun Is Also A Star by Nicola Yoon this month, however don't think it will get done by new year. Looking back, this months reading hasn't been too bad, i've had a good amount of festive reads thrown in and really enjoyed everything i've read. Successful i think!