I've been anticipating the release of Winters Snow for quite a while now, so i picked one up in my local Waterstones just after the release! The physical copies of Carrie's first novella are only available in Waterstones stores, otherwise are available as an ebook! I was eagerly awaiting this release after loving On The Other Side so much, so got to reading it right away. – Spoilers –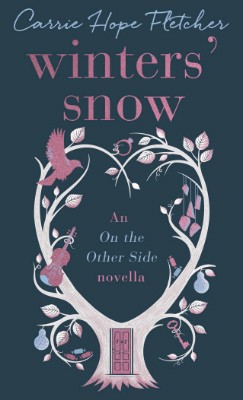 Title: Winters Snow
Author: Carrie Hope Fletcher
Genre: Novella, Romance, Fiction
Pages: 42
Publication Date: 18th November 2016
Publisher: Little Brown
Summary: Now, Vincent has the chance to make right a mistake from his past and to potentially alter the course of events in his and Evie's favour. While doing so, he realises he has embarked on a journey that will teach him all about love, life and humanity; but one thing he does not know for sure is whether it will lead him back to the only woman he ever loved.
The novella is the tale of Vincent Winters, Evie's love interest from On The Other Side, and tells the story after his immediate death. The idea of this world is that to gain access to your 'happy place' after death, you must settle the differences you made when alive and be completely at peace. On The Other Side follows Evie's story after death, so naturally we find out what happens to Vincent after death in this novella.
The story takes us through the stages Vincent has to take to get to Evie in their little flat they used to share as 20-somethings. This is ultimatly where Vincent wants to rest for eternity. It clearly is going to be a wonderfully cheesy, romantic ending, but the nature of Carrie's stories make you forget about that.
First of all, i absolutely loved being back with these characters in this world. I couldn't get enough of it when i read Carrie's first novel, so to visit the characters again (even just for 40 pages) it was absolutely wonderful. With the focus being on Vincent this time, it means that we gathered more of an idea of his personality and his opinions on his love for Evie, and that was interesting. I never overly connected with Vincent, more just his relationship with Evie, but this novella made me like him a lot more.
As it is a (very short) novella, there isn't much chance to get a story built up. One thing i've noticed with novellas is that the author religiously puts information from previous novels in again, reminding the reader. I cannot stand when authors do this because it's a lot of unnecessary information that you would definitely know if you've used your brain and read the novels before the novella. Carrie didn't do this. She had such little room to get the story told, that very few reminders of the story were packed in. It gave her space to continue the story without having to back track. I really really enjoyed that.
It's very difficult to sum up a novella in a review, but overall the writing was outstanding as always. The characters were spot on and the story was surprisingly well developed and magical. You could tell that the story came from Carrie, a tale of mystery, romance and magical realism. I cannot get enough of this world and these characters.