My wish-list on Amazon usually grows by the day. When i think i've grasped the concept of restraint and haven't used my app to have a flick through of the new releases that day, i always end up adding a few more things to my wish-list. It's getting excessively big and although i keep buying a few books every now and then, it never seems to be going down. So this weeks Top 5 Wednesday, i will be sharing with you the latest 5 books that have been added to my wish-list.
Rainy Day Sisters (Hartley-by-the-Sea Novel) by Kate Hewitt
I added this most recently to my wish-list after being involved in the blog tour for Kate Hewitt's latest novel, Now and Then Friends. I added this because it is based in the Lake District in England, one of my favourite places in the world, and i wanted to read more stories that are based in England. I also will be taking a trip there in the next few weeks so i'm collecting together some stories based in the Lake District for some themed reading.
The Yellow Wall-Paper by Charlotte Perkins Gilman
This is the next addition to my wish-list after i was discussing it with one of my friends as she was finding a text to study for college. She asked me if i'd read it before and obviously i said no, nor do i know anyone who has read this classic short before. I read a little more in to it and figured i should give it a try at some point!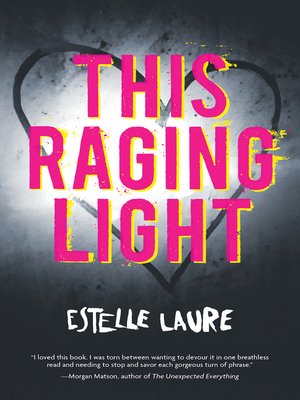 This Raging Light by Estelle Laure
It feels like the whole online book community have been talking about This Raging Light in the last few months. I hadn't taken much notice of the release back in January, but after a trip in to my local Waterstones and reading the inside flap, i realised that it was a book i probably would be very interested. So i added it to my wish-list once i got home!
Highly Illogical Behaviour by John Corey Whaley
Even though i've not read a John Corey Whaley novel myself as of yet, i have been keeping a close eye on his latest and most popular releases. In the last few months, i have heard nothing but incredible things about his latest release about a boy who has agoraphobia. I've never read a novel like it and i hope to get around to reading and buying it really soon.
Salt Of The Sea by Ruta Sepetys
Salt Of The Sea  was added to my wish-list when i'd finished reading Between Shades of Gray because i then wanted to read absolutely everything that Ruta Sepetys had ever written. I found Between Shades of Gray  to be incredible captivating and i wanted a book to have the same effect on me again. I really want to get around to buying Salt Of The Sea really soon.
So those are the five books that are right at the top of my wish-list at the moment, without a doubt i know it's going to grow more and more in the next few weeks (as it always does) but i am particularly excited about these.