Over here at the Little Contemporary Corner we really love Carrie Hope Fletcher. So as you can imagine with the release of her new novel imminent, we're pretty much waking up excited every morning. There's just so much goddamn talent in that Fletcher family!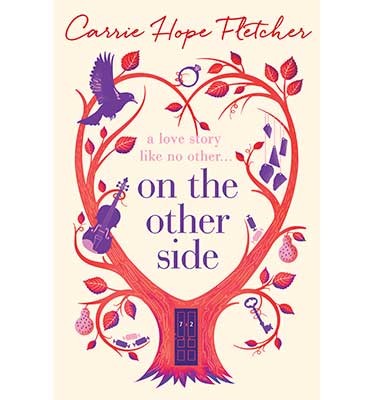 On The Other Side is Carrie's first novel which is set to be released on the 14th of July. It follows the release last year of her memoir come self-help book All I Know Now. We have a full review of that up HERE if you want to check it out!
The premise for On The Other Side is as follows:
Evie Snow is eighty-two when she quietly passes away in her sleep, surrounded by her children and grandchildren. It's the way most people wish to leave the world but when Evie reaches the door of her own private heaven, she finds that she's become her twenty seven- year-old self and the door won't open. Evie's soul must be light enough to pass through so she needs to get rid of whatever is making her soul heavy. For Evie, this means unburdening herself of the three secrets that have weighed her down for over fifty years, so she must find a way to reveal them before it's too late. As Evie begins the journey of a lifetime, she learns more about life and love than she ever thought possible, and somehow, some way, she may also find her way back to her long lost love…
If that's not enough to get you really excited to read Carrie's first novel I don't know what will. With the complete success of All I Know Now I can imagine that this novel will really make Carrie's career as an author. The idea of On The Other Side is not really what I expected Carrie to write when I heard about the release, however it seems like an incredible idea which I'm sure she's written fantastically.
I don't usually get excited about novels this far in advance when there are so many books to look forward to already, but I felt like you should all know about this and put it in your diaries for July 14th so you are ready to dive in to the incredible world of Evie Snow.
If you're interested in pre-ordering On The Other Side, the hardback version is currently half price from AMAZON and also WATERSTONES if you're a resident of the UK.
Happy pre-ordering!