October my first month back at University full time, as a result my third year work has started to pile up! This has sadly meant that I haven't had much time to read for pleasure (text books definitely do NOT count even if you love your subject.) That being said I've managed to get through quite a few of books that I wanted to get to this month and managed to read 5 in total before our Halloween Read-Along started!
The first book that I picked up in October was Fangirl by Rainbow Rowell! I've already uploaded a full review of it HERE if you want to check it out! I actually bought Fangirl on the week of its release and had been putting off reading it for some reason. I deeply regret that decision now. Fangirl follows Cath, a young girl just starting out at college as she meets all these new and exciting people and goes to all these new places that she actually really doesn't want to go to. As I'm now in my final year of university I felt like if there was a time to read to Fangirl, it was now. Rowell always writes incredibly and this novel was absolutely no different.
Earlier in the month I got sent One by Sarah Crossan for review by Bloomsbury. I have also done a full review of One, you can see that by clicking HERE! One is the story of Tippi and Grace, conjoined twins who are trying to figure out the best way to make them both happy in life. I never thought that this book would make me as emotional as it did, but at the end I was officially a sobbing mess. By far I think One is my favourite book of the year.
The third book that I picked up in October was The Perks of Being a Wallflower by Stephen Chbosky. I re-read this for my dissertation as I wasn't sure what text I wanted to study. Previously I absolutely adored this novel, it's something that I and Sophie hold very close in our friendship. Whereas I still enjoy the story of Perks, I was a little shocked about how long it took me to get through the book again. I dragged through it really and I think it was kind of the fact I'm not reading it with an older mind and I could relate to Charlie more.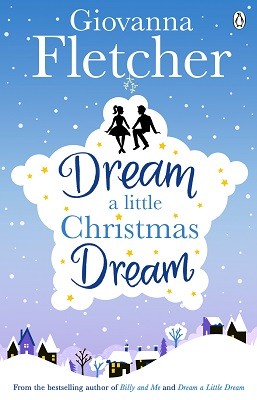 After The Perks of Being a Wallflower I started reading Dream a Little Christmas Dream by Giovanna Fletcher. You can see the full review for Giovanna's latest novella HERE. Dream a Little Christmas Dream is based around the lives of Sarah and Brett, the main characters from her novel Dream a Little Dream. We follow them around Christmas time for this novella – which let's face it, as a lot more fun! Giovanna Fletcher is my author that I will automatically pick up the book the day of the release. Like seriously, drop everything. Her work never fails to put a smile on my face, so if you've read Dream a Little Dream I'd definitely pick up the companion novel!

The final book that I managed to read this month was Marly's Ghost by David Levithan. I needed a short book to get me through until our Halloween read along started, I'd had this on my shelf since the release in January this year so figured it was about time to get to it. Marly's Ghost is a retelling of A Christmas Carol, instead told in February about Valentine's Day. It's based around Ben who is trying to deal with the first Valentine's Day after his girlfriend, Marly's passing. I have always loved Levithan's work and this book was no different, it was a unique retelling of a classic story which made it a lot more relatable to a younger audience.