I've said many times before that Giovanna Fletcher is one of my favourite authors. Even though her work is very chick-lit and mostly predictable, it always leaves me with the biggest smile on my face at the end. What girl doesn't want a really smushy love story every so often anyway? When she announced that she was releasing yet another Christmas novella this year I quite literally couldn't contain my excitement.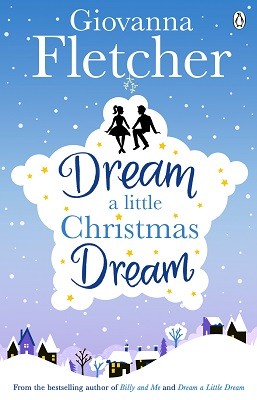 Title: Dream A Little Christmas Dream
Author: Giovanna Fletcher
Genre: Romance, Contemporary
Publisher: Penguin
Publication Date: 8th October 2015
Pages: 85
Summery : Sarah's life is great.
Okay, her dreams might still be totally bananas, but her real life is definitely back on track. She's got a fantastic job, amazing friends and she's planning on spending all Christmas wrapped up with Brett, her handsome boyfriend.
But after another night of increasingly bizarre dreams, Sarah wakes to find her lovely housemate suddenly announcing she's moving out. Then later that same day, Brett begins to act strangely. It's clear he's hiding something – but what?
Soon Sarah can't help but wonder if she's living out her own festive nightmare. Will any of her dreams come true in time for Christmas?
Dream a Little Christmas Dream revisits the characters from her latest novel Dream a Little Dream. This time its ten months in the future when Sarah and Brett have settled in to their relationship and their friendship group is growing stronger and stronger. When Dream a Little Dream ended I was practically itching for a follow up with my favourite characters so I was more than happy that this was during the festive period!
I know it's nowhere near Christmas yet but I couldn't wait to get stuck in. My first thought on the novella is that it's not overly Christmassy to start with. Yes there are a couple of parts which were related to the holidays but the whole novella just has a nice undertone of Christmas. I didn't feel out of place picking it up on October. This was much different to last year's novella of Christmas with Billy and Me.
The friendship group that Sarah has is probably my favourite of any book I've ever read. It consists of Sarah, Natalia, Carly, Dan, Allister and Josh of whom all know each other from Uni. Later added is Dan's wife Lexie and Sarah's boyfriend Brett. They have such a fun dynamic between them and I find you often don't read adult novels with a strong friendship aspect. It's very refreshing and I'd honestly love to read about each of the characters in much more detail.
My one minor criticism about Dream A Little Christmas Dream is that there is a lot of information stuffed in about the last book. If something is mentioned from Dream a Little Dream, Giovanna then goes on to explain the relevance to the last novel. Whereas I know it's probably necessary, it feels like it takes up too much of the already short book when I want to know what happens to Brett and Sarah faster!
I thoroughly enjoyed this little novella overall even though I had my few off points. As I said before the ending was a little predictable but I haven't found many adult romance novels that aren't. It definitely didn't stop me ending the story with an absolutely massive grin on my face! If you picked up Dream a Little Dream I wouldn't hesitate in picking up Dream A Little Christmas Dream!